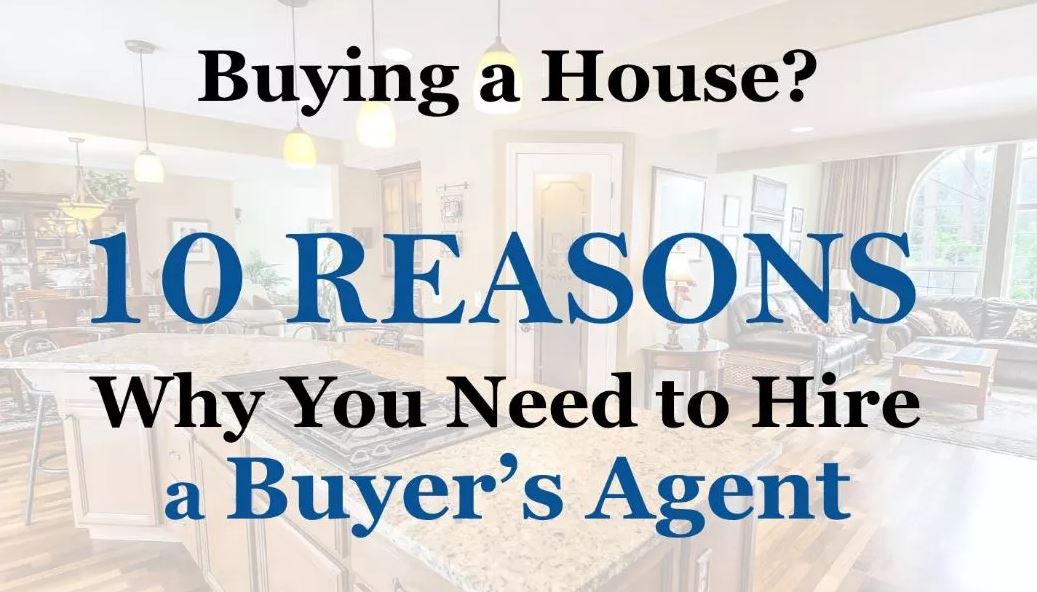 When you call the listing agent for a home you are interested in, they are representing the seller. You want to have a buyer's agent who is working for you and protecting your interests. There are many reasons why it's very important to hire a buyer's agent. Here are 10 main reasons:
1. IT'S FREE!
Most first-time home buyers don't know that it is free to hire a buyer's agent. The seller pays both the listing agent and the buyer's agent at closing. Even some for sale by owners will pay the buyer's agent. (This is a great reason!)
2. AN EXPERT A VIEWING HOUSES
A buyer's agent has experience and sees many homes each week. They can help identify potential issues with any homes you visit. An extra pair of eyes looking at the property is a huge plus!
3. AN UNDERSTANDING OF THE LOCAL MARKET
Every real estate market is different. You want someone that understands the local market when you are buying a home. For example, they will know if a home you like in a particular neighborhood is priced right. They know what other homes are selling for and have sold for to make sure don't pay too much.
4. A BUYER'S AGENT WORKS WITH YOUR LENDER
Buying a home and getting financing can be confusing. A buyer's agent has worked with many clients so they understand the mortgage process and can work with you and your lender to help make the buying process less stressful.
5. SCHEDULES SHOWINGS
Most people will see a dozen or more properties when buying a new home. A buyer's agent is responsible for coordinating the showings for all potential properties. They will make all the phone calls, coordinate the showings based on location and times, and provide you with all the important information about each property.
6. WRITING THE REAL ESTATE CONTRACTS
A buyer's agent is a professional who knows the ins and outs of all the real estate contracts. They can guide you through the contract and make sure that all necessary forms are completed to protect you in this most important purchase.
7. ACCESS TO EXPERIENCED PROFESSIONALS
A buyer's agent can recommend several mortgage companies, inspection companies, law firms, and other services. This is very helpful, especially if you are new to the area.
8. EXPERT NEGOTIATOR
A huge benefit of hiring a buyer's agent is you will have an expert negotiating on your behalf. They can negotiate to get you the best price, needed repairs, and more. Maybe you really like the washer and dryer that are in the home you are making offer on. The buyer's agent can add that into the offer to see if the seller will include them in the purchase.
9. KEEPS THE TRANSACTION ON SCHEDULE
Delays can happen in any real estate transaction. This can be very frustrating. When you hire a buyer's agent, you are improving your chances for a smoother transaction. Your agent can make sure you take care of everything on your end, and can explain the process when something comes up on the seller's end.
10. AN EMOTIONAL FILTER
When you buy a home, it can be very emotional. Having a buyer's agent working for you can help you not make emotional or rash decisions. Of course, the final decision is yours, but your agent can help you weigh the pros and cons, and looks at things objectively so you make the best decision for your needs.

There are many more reasons why hiring a buyer's agent is a must! Buying a home is one of the biggest purchases you will make in your life. You want (and need) a real estate professional working with you and looking out for your best interests.