Thanksgiving is just around the corner and the best way to enjoy your holiday is to get organized.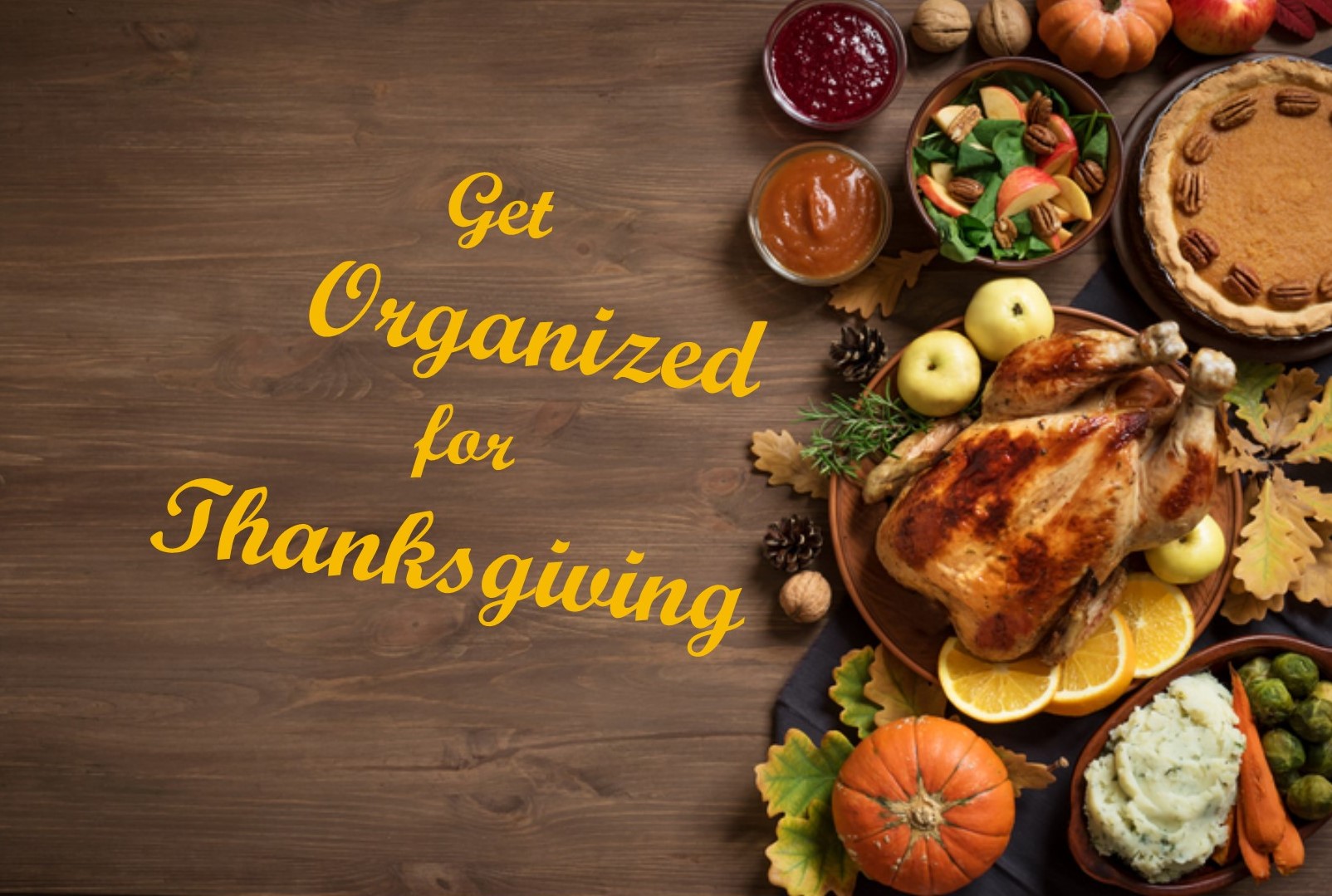 Staying organized is key to helping your Thanksgiving holiday be an enjoyable one. Here are a few quick and easy tips to help your turkey day be a success.
1. Create a Menu

Prepare your basic menu early and ask guests what they would like to bring to finalize your meal plan. Make sure guests bringing food do not need to use the oven or stove. If they do, make plans for that.
2. Bulk Shopping
To make sure you don't run out of any ingredients, shop early and buy in bulk. You can never have enough sugar, flour, etc. during the holidays. Don't forget to have plenty of foil and plastic wrap, plastic bags, and containers for all the leftovers.
3. Make Room in the Refrigerator
Before you do your shopping, clear out your refrigerator, freezer, and pantry of any old leftovers, expired items, and the like.
4. Be Prepared
Will you have help in the kitchen when you are preparing the Thanksgiving meal? Prepare workstations in your kitchen so everyone helping will have what they need and space to do it. Buy plastic baskets at the dollar store to help organize your spices and other small containers. Be sure you have enough oven mitts and hot pads. Having assigned areas for prepping the turkey, the sides, and desserts will keep everyone happy.
5. Oven Reservations
Your turkey will take up your over for many hours, so plan your sides where you can utilize your stove top. Items like mashed potatoes can be made earlier to free up burners and kept warm in a crock pot. Utilize the microwave for heating items up as well. Be sure your appliances are all clean and ready to use ahead of time as well.
6. Buffet or Table Serving
Decide how you want to serve your meal. Whole turkey on the table or cut in the kitchen and served on a platter? Will your meal be a seated dinner with table serving or will you have a buffet? Making this decision early will also allow you to decide if you need extra tables for the buffet and how you want to decorate the tables.
7. Don't forget the Drinks
Drinks are a great thing for your guests to bring. You can provide tea and sodas and ask your guests to bring any other beverages they would like and don't forget the ice. If you don't have a lot of freezer space, get out the ice chest!

No matter how much you plan, something unexpected will always happen. It wouldn't be Thanksgiving without the unexpected guest or the ingredient you forgot to buy. We hope these suggestions help make your day run a little more smoothly. And don't forget to relax and enjoy this special day with family and friends. Happy Thanksgiving from your friends at Cornerstone Properties!