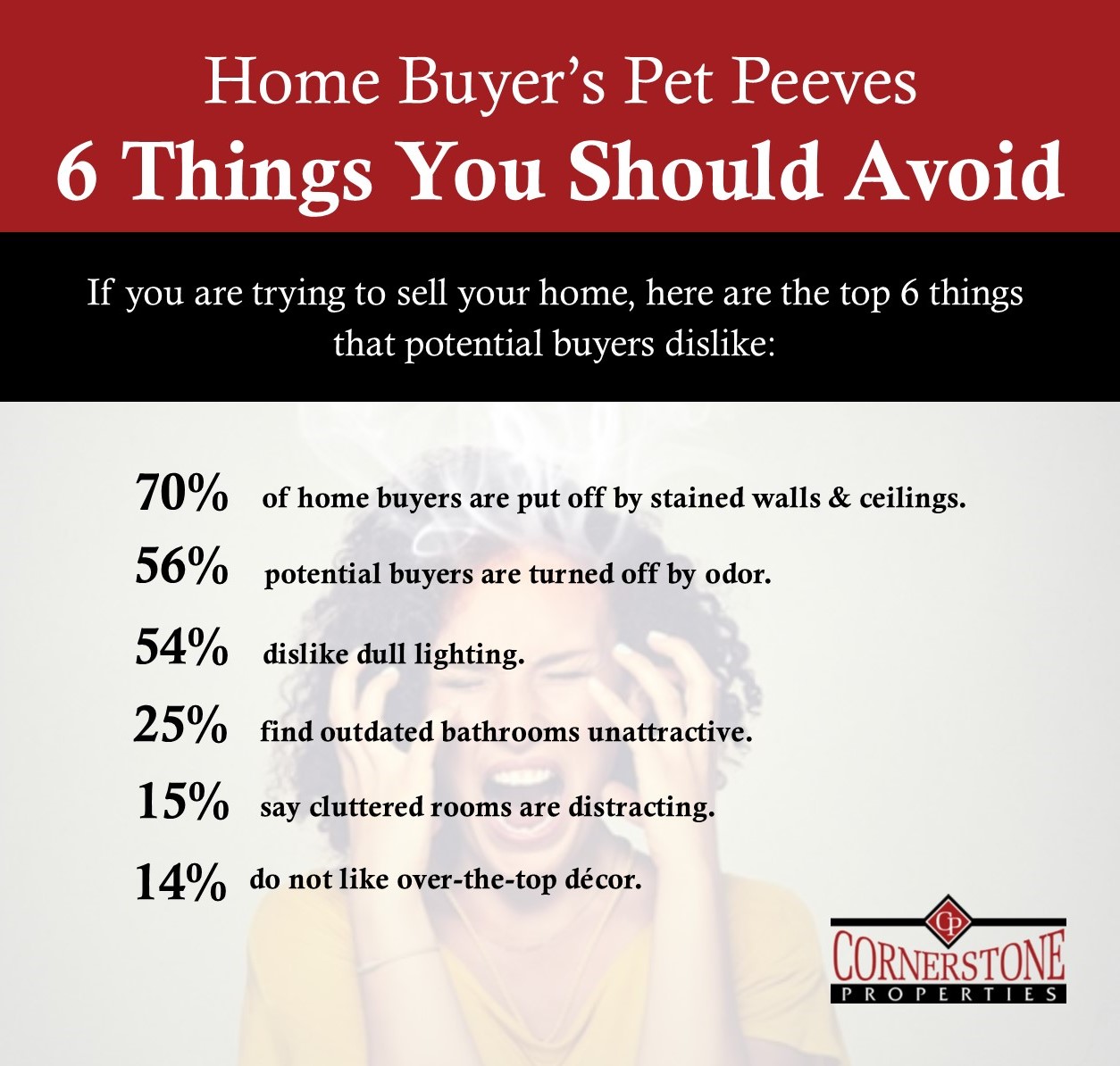 Are you wanting to sell your house? When potential home buyers come to see your house, you want to put your best foot forward. Make sure your home is inviting and there are no distractions that will keep the potential buyer from imagining themselves living there. Here are six things you should avoid when you put your house on the market.
1. Give Your Home A Facelift with Fresh Paint
70% of homebuyers say they don't like stained walls and ceilings. A simple fix is to paint the interior with bright neutral colors that don't distract home buyers and also lighten up the home.
2. Deodorize Your Home
Over half of home buyers are turned off by odors. Be sure your home smells as fresh as a daisy. Be sure to do a major cleaning before you put your house on the market, and then keep it clean for showings. Be sure to take out the trash daily.
3. Let There Be Light
54% of potential home buyers dislike a dark house with dull lighting. Be sure to replace all the lightbulbs in your house and that all lights and light switches are working. Remove black out curtains, open drapes and mini blinds to allow in natural light.
4. Bathroom Blues
Homebuyers see additional expenses when they see a bathroom that needs updating. Remodeling your bathroom before you list your home could help it sell quicker and for more money. Talk to a realtor before you do any updates because you might not need to remodel. Sometimes just some de-cluttering and little changes like a new shower curtain, new towels and rugs can freshen up the bathroom.
5. Remove the Clutter
You want potential buyers to be able to see themselves living in your home. Cluttered rooms can be a major distraction and it hides your homes beauty. Have a garage sale to get rid of unwanted items and consider renting a storage unit to maximize the space in your home.
6. A Blank Canvas
Another complaint potential buyers make is about over-the-top decor. Staging your home to sell is a great thing to do. Store your knick-knacks. Clear off counters, nightstands, and tabletops. Minimal pictures/paintings on the wall is a plus. You may love your guitar collection, but to home buyers it is a distraction. Talk to your realtor about ideas on staging your house for maximum results.
Selling your home can be stressful. Our agents can help you get your home ready to show and sell! Call Cornerstone Properties at 361.576.2353 today!