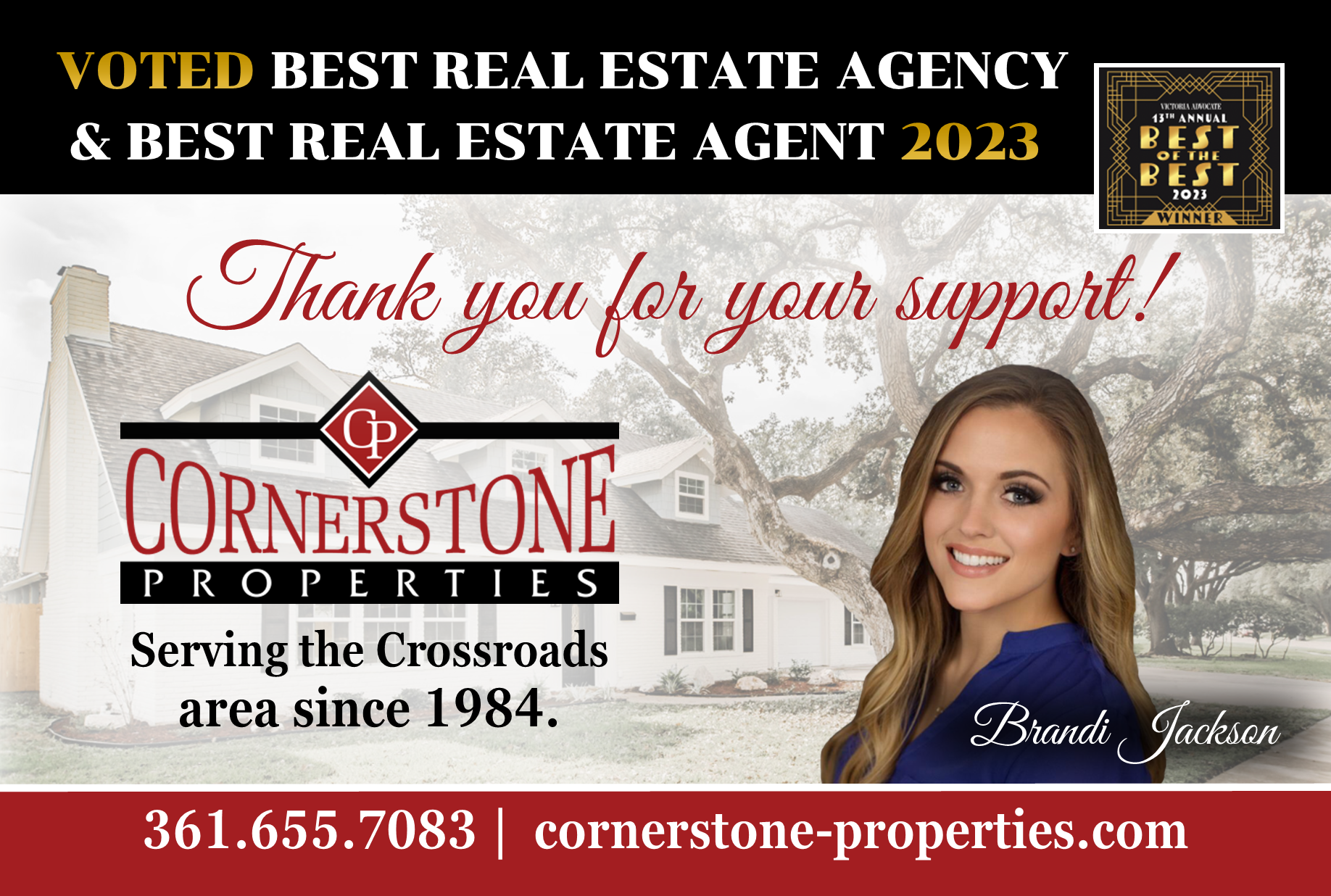 Cornerstone Properties and Brandi Jackson were voted Best Real Estate Agency and Best Real Estate Agent for 2023 in the Victoria Advocate's Reader's Choice Best of the Best publication. Our clients are so special to us. Thank you to everyone who voted.
Brandi Jackson is the broker/owner of Cornerstone Properties, the #1 independent Real Estate company in Victoria. She is a top-performing local professional with 16 years of experience, closing 1,000+ transactions for over 215 million dollars in sales. Brandi has exceled in the competitive Crossroads Real Estate market, establishing a reputation as a well-respected and innovative businesswoman. In July 2016, Brandi was voted Top 30 Under 40 Business Moguls of the Crossroads in Golden Crescent magazine.
Cornerstone Properties has served the Victoria area since 1984. With two office locations in Victoria and Shiner, a team of more than 30 agents, and marketing professionals working tirelessly for their clients, Cornerstone has closed nearly 1 billion dollars in sales. "Having dedicated REALTORS® is very important to providing exceptional service and our amazing clients are the key to our success," Brandi said.
Brandi and the Cornerstone Properties team offer a wide variety of experience in residential (single & multi-family), land, investment, and commercial real estate across the Crossroads area and beyond. They also have a broad background in REO and relocation procedures, making Cornerstone Properties a full service brokerage ready to take care of all your needs.
"It is such a special honor to be voted the Best Real Estate Agent and for Cornerstone to be recognized as the Best Real Estate Agency as well," said Brandi. "Our clients are so important, and we appreciate the trust that put in us. To be chosen by the community means so much and we want to thank everyone who voted for us. I was born and raised in Victoria County, and I am raising my children here, too. Helping people find their dream home or the perfect commercial property to grow their business is very satisfying and makes me excited to go to work every day!"