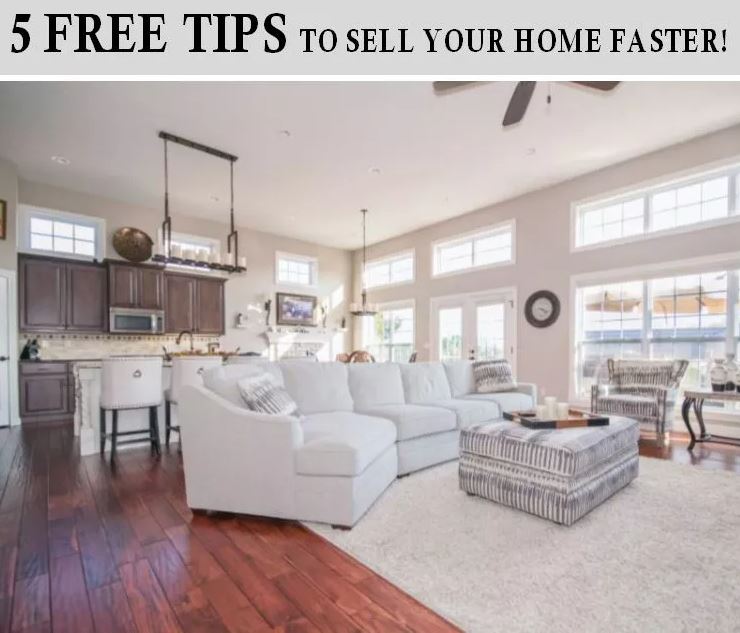 Are you ready to sell your home and want to sell it quickly? We have some tips that can make your home ready for showings. Homes that are staged when listed, can be more appealing to buyers. On a tight budget? We are going to give you some free tips that can help your home look professionally staged and you can do it yourself!

TIP #1 – FLOWER POWER
Fresh flowers always make a space look friendly. You can pick flowers from your flowerbed or buy flowers at your local grocery store, like HEB, to brighten up a room. If you don't have a vase, you can use a glass pitcher or even a mason jar. You can also put out a basket of fresh fruit or vegetables to add a pop of color in the kitchen.
TIP #2 – AS CLEAN AS A WHISTLE
Keeping your house tidy for showings is always a plus, but when you list your house, you want to do a major cleaning. Clean the ceiling fans, mini-blinds, baseboards, cabinet doors, and every corner. Once you do this massive cleaning, it will be easy to keep your house spotless until it is sold. Another tip is to get your house clean BEFORE you list it. This way it is in tip top shape for pictures and ready for that very first showing as soon as you list.
TIP #3 – KEEP IT TIDY
After that big cleaning, you want to keep your home decluttered. It is so easy to put the mail on the counter, leave dishes in the sink, or your makeup out in the bathroom. Keep all tabletops and kitchen/bathroom counters clear and keep the laundry room neat. Another tip for keeping tidy is to clear out the closets and minimize what you have in them. It will make the closets look more spacious. A closet full of stuff can leave buyers wondering if the house has enough storage space.
TIP #4 – SETTING A TABLE THAT SELLS
A great way to make your dining area look inviting is to set the table. This little bit of staging adds a lot, but don't overdo it. Set 2 to 4 place settings with a nice centerpiece and maybe a table runner for a pop of color. Paint a picture of nice family dinners for your potential buyers.
TIP #5- CREATE A FRIENDLY FLOW
A clean house is great, but does your home invite buyers to walk around without bumping into things, or will some of your furnishings confuse potential buyers about what a room can be used for? Now is the time to arrange your furniture to make the rooms appear large and create an easy flow from room to room. Don't store everything in your garage. Rent a storage unit to store unnecessary items. Buyers like to see a garage that isn't packed full of all that extra stuff you don't want to keep in the house.
These are just a few ways you can freshen up your home to get it ready to sell. You might want to spend a little money to update your flowerbeds and maximize your curb appeal. Or you might want to paint some rooms. You can do these updates yourself without breaking the bank. Before you spend too much, talk to a real estate agent to find out what your home is worth in the current market and ask about any updates that might increase the value.

Want to speak to a local real estate expert? Call 361.576.2353 today.